Take a Walk on the Wild Side
Cape Town has an endless number of walking tours and museums that ably encapsulate the city's complex, vibrant and eclectic history. The place tells a story that weaves in complex elements. These range from the days of the Khoisan people before the arrival of the Dutch settlers to the struggle years that resulted in democratic South Africa.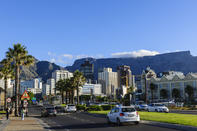 ©Roger de la Harpe
Street scene near the Victoria and Alfred Waterfront, Cape Town.
We recommend you trace your steps into the city's past by starting at the Castle of Good Hope, built as a fortress by the Dutch settlers. The tree lined Company's Garden and cobbled Government Avenue include the presence of some notably iconic historic institutions. These include the South African Museum with its exhibits on the San and Khoikhoi, the first known inhabitants of the Cape. For a snapshot of Cape Town's Cape Malay history, head for the Bo-Kaap where you encounter heritage cottages painted in pastel hues and bright colours.
Walk Further into History
As you nose about local spice shops, you will sense the city's strong historical associations with the spice trade from the East. Afrikaans-speaking descendants of slaves have been absorbed into the Coloured community, yet remain staunch Muslims. Mosque minarets are scattered about as well. The South African Jewish Museum and Cape Town Holocaust Centre are well worth a visit.
The District Six Museum traces the forced removal of a vibrant community. No visit to Cape Town is complete without a boat trip to Robben Island where Nelson Mandela spent 18 of his 27 years of incarceration on the island. Township tours offer a 'behind the bus window' look at how communities live, work, hone their entrepreneurial talents and develop their trade, particularly in the hospitality, arts and crafts sectors.