Jewel Africa is the largest diamond and tanzanite retailer in South Africa with over 50 000 guests visiting every year. Best known for dazzling international tourists with a gorgeous collection of jewels and products, Jewel Africa is an authoritative figure on African jewelry design.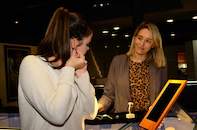 ©Jewel Africa
The richness of African artistry, culture and heritage is showcased by Jewel Africa's multilingual staff; their focus on luxury treatment gives potential investors peace of mind while they browse through Jewel Africa's extensive range of diamonds, tanzanite and collectible African artifacts.
Founded in 1985 as a local diamond business, Jewel Africa has gone from strength to strength and has earned their reputation as a distinguished jewel empire, inspired by the strong leadership and passion invested into the company. In 2000, their experimental space was launched in Cape Town to invite tourists to engage with stunning momentos from their African adventure in an intimate setting.
They are in the unique position of owning all stages of the diamond and tanzanite production pipeline, which enables them to provide customers with the absolute best jewels while cutting out the middle-men.
Jewel Africa is a timeless jewel retail destination with an incredible range of unique and beautiful products, with the mandate of sharing one of South Africa's greatest treasures with the world.