Ageless Design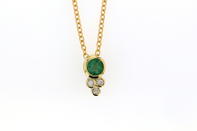 Ancient rulers wore pendants that depicted their most sacred objects. In this piece, the magnificent emerald serves as a focal point — a celebration of its beauty and rarity.
An elegant 45 cm rolo chain of 14 kt yellow gold showcases a Zambian Emerald flanked by three brilliant-cut diamonds – a motif worthy of kings and queens.
Embody nobility when you wear this majestic creation.
Priced From: US$840
Solid Gem
Earrings are more than just personal ornaments; they are an expression of self. A single pair can say more about the wearer than any introduction. This pair denotes class, elegance and sophistication.
This set sees two Zambian Emeralds perched on a bed of 14 kt yellow gold, accompanied by three brilliant-cut diamonds on each ear. This intricate assembly results in an effortlessly elegant design that's likely to draw attention and admiration.
Priced From: US$870
Stone Stunner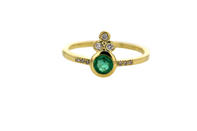 Make an unforgettable statement with this stunning ring. An alluring design, it sees a Zambian Emerald displayed within a bed of glorious 14 kt yellow gold, with three brilliant-cut diamonds on its crown and another six on its flank.
A wise investment piece, this ring has the makings of a precious family heirloom. Make an investment today when you buy this magnificent piece.
Priced From: US$830
By Jewel Africa