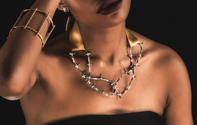 South African designer jewellery is more than adornment; it reflects beauty, wealth, prestige and the wearer's personality. Luckily, you won't have to look far and wide for exquisite jewellery, because many South African jewellery designers have created stunningly unique pieces to perfectly round off any outfit.

Luxury South African jewellery designer pieces that are made from high-end materials and are locally produced can be hard to find, but luckily SouthAfrica.co.za has got you covered. We have sourced some of the finest quality jewellery pieces by renowned South African jewellery designers.
Jewellery is not only a fashionable item - it can be collected, traded and sold, making every piece you acquire a worthwhile investment. Scroll through SouthAfrica.co.za's jewellery collection to shop for the country's most precious silver and gold jewellery, rings, earrings, necklaces, pendants, bracelets and bangles.
Buying gold jewellery in South Africa from SouthAfrica.co.za. Our collection includes beatiful and unique items from local South African gold jewellery designers, such as gold earrings...
more
​​​​​​​Browse SouthAfrica.co.za's selection of premium South African silver jewellery to buy - such as silver earrings, rings, bracelets, pendants and necklaces - for one that mirrors your soul's desires....
more