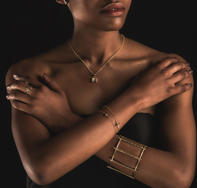 South African gold jewellery is a truly unique treasure to adorn yourseldf with. A metal in a league of its own, the unparalleled qualities of gold have inspired the most exquisite creations, including magnificent jewellery and priceless decorative symbols.

Since the first recorded use more than 5000 years ago, gold has been beloved by elite jewellers, selective glamazons and the collectors of timeless treasures. South African gold jewellery designers know that the luxury and beauty a gold item presents is important to many, and work with grace and creativity to create only the finest pieces.
Treat yourself to the radiance of nature's most precious metal when buying gold jewellery in South Africa from SouthAfrica.co.za. Our collection includes beautiful and unique items from local South African gold jewellery designers, such as gold earrings, rings, bracelets, pendants and necklaces.