Golden Silver Lining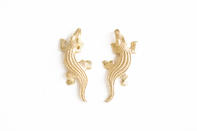 The hand-carved detailing on these gilt crocodile earrings compliments the gentle curvature of the animal's body. The symmetry of the studs' design creates balance on the wearer's face by reflecting the shape on each ear. Cast in silver and plated in gold, these crocodile studs are a tribute to the unrecognised regality of these animals.
This well-considered set of earrings could be yours, or a loved one's, with SouthAfrica.co.za.
Priced From: US$70