The Gold and Mighty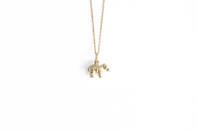 The second largest land animal after the elephant, the hippo is a formidable and magnificent creature. This African gem has been enshrined in precious 9 kt yellow gold to make a uniquely beautiful pendant. Drape this stunning piece around your neck and embody the bold qualities of these sub-Saharan giants.

Hand carved and cast, this pendant has been made with meticulous creativity. Add it to your jewellery collection today.

Enquire at SouthAfrica.co.za.

Priced From: US$390