Timeless Tinsel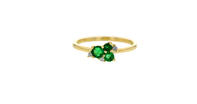 Rings have long been believed to symbolise the infinite, endless and eternal power of love. This timeless piece, which is best described as strikingly simple, is a worthy tribute to such ideals.
Expertly restrained, this design features three Zambian emeralds on 14 kt yellow gold and a tasteful scattering of brilliant-cut diamonds. Embody the eternal when you wear this gorgeous ring.
Priced From: US$690
Show Stopper Stones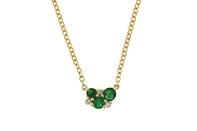 Drape yourself in precious stones and expert design. This pendant is made for the discerning collector with an eye for classic pieces.
Three Zambian emeralds form the focal point of this petite cluster necklace whose foundation is 14 kt yellow gold. Complementing these stones are three brilliant-cut diamonds, a design that's sure to steal the show.
Add luxury and colour to your life with an emerald; a stone whose vivid brilliance has inspired poets and philosophers. Invest in this necklace today and own it for a lifetime.
By Jewel Africa