Stone Series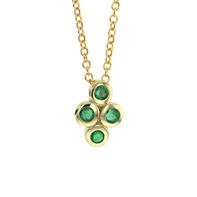 Presenting a series of emeralds in a gorgeous sequence, this pendant is the perfect showcase for these precious stones. Known for their harmonious qualities and incredible rarity, these gems are the stars of this expertly crafted piece.
In this number, a 14 kt yellow gold rolo chain presents four Zambian Emeralds, a design that'll appeal to lovers of classic jewellery. Drape yourself in one of nature's most exquisite creations when you don this pendant.
Priced From: US$710
Drops of Green
An emerald is a geological phenomenon said to encourage balance and wisdom. Celebrate Mother Nature's ingenuity when you procure this precious stone.
Start your collection with these splendid earrings featuring a magnificent assembly of green gems. Made of 14 kt yellow gold, this set has a total of eight Zambian Emeralds – an investment piece and collector's item.
Add this design to your accessories roster and stand out in style.
Priced From: US$990
Royal Circles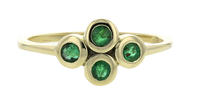 Buy this magnificent ring today and own a design that merges classic elements with a contemporary edge. Featuring a bold collection of four Zambian Emeralds, this piece is worthy of royalty and tastemakers with exacting jewellery standards.
A 2 mm straight band of 14 kt yellow gold holds these precious stones together to make a piece of timeless quality and beauty.
Priced From: US$590
By Jewel Africa