Partial Silver Circle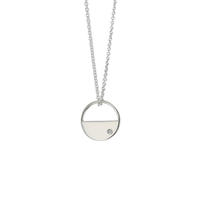 A circle is traditionally known as a complete shape. This silver necklace breaks the boundaries of conventional norms and stands out with a clear and purposeful design. The elegant rhodium-plated sterling silver disc is filled halfway and bestowed with a 0.01 ct diamond to complete the intention of the design.
Hanging gracefully from a 45 cm rolo chain, it entices viewers to ponder whether or not the cup is half empty or half full and reflects your presence as the pendant hangs around your neck.
Priced From: US$90
A Twist of Class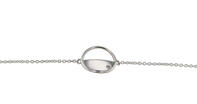 This silver bracelet spirals from start to end on a 20 cm rolo chain with a signature circle in the middle of the bracelet. The unique design strikes the eye with spindled rhodium-plated sterling silver, unmatched in class and style. The imperfect oval that rests in the centre represents a circle with a splendid 0.01 ct diamond to finish off the garment.
The jeweller's intention is to draw your gaze towards the imperfection of humanity and how it defines our beauty. This one-of-a-kind bracelet is a must-have for lovers of fine jewellery.
Priced From: US$70
Imperfection Perfected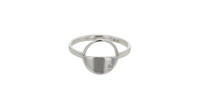 This silver ring dials a tone that everyone can relate to. Slightly bold yet maintaining an understated look, the ring echoes a journey through humanity. Poised and composed, this rhodium-plated sterling silver ring's design is unmistakable. A circle that seems to be half full is topped off with a 0.01 ct diamond.
The half empty circle engages with your finger as soon as you slip the ring on. Elegant lines coupled with pure simplicity make this ring special. Completely authentic and untouched, it is a ring that resonates with class and beauty for the finest occasions.
Priced From: US$70
Earring with the Silver Lining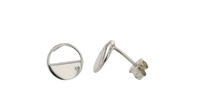 Not all humans are created equally so why should jewellery? Ripe for the picking, these silver earrings will leave you gasping at their true form and design. Unrivalled workmanship and rhodium-plated sterling silver, coupled with a completely unique design, make these earrings a collector's item.
The half-filled, circle-like design with flush set diamonds totalling 0.02 ct resides in each corner and allows for a brand new look each time you wear these classy studs. Charged with charisma and an unparalleled aura, these earrings will keep you looking like a million dollars all through the day.
Priced From: US$90
Become One with Two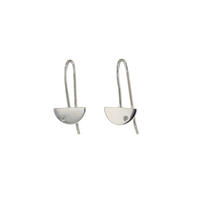 These earrings are very precious indeed. Each half circle earring is rhodium-plated sterling silver on a shepherd's hook, complete with two flush set diamonds totalling 0.02 ct to add to the earrings' distinct panache. Flawlessly designed, the earrings make up a whole circle when added together.
The designer has carefully crafted these earrings from the finest African silver, which leaves a mark on your memory that you can simply never forget. When you own these earrings, you don't walk with the crowd; you walk above them in pure, unparalleled sophistication.
Priced From: US$90
By Jewel Africa