Table Mountain on a String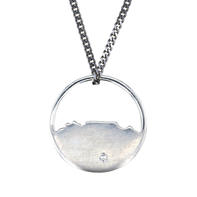 Africa is full of iconic locations. Now, an artist has endeavoured to encapsulate one of the natural wonders of the world on a necklace. The necklace's design is unmistakable - Table Mountain's silhouette is cast in rhodium-plated silver and features a graceful 0.02 ct diamond.
Simply unforgettable, this one-of-a-kind piece captures the majesty of the mountain that overlooks the city of Cape Town. Treat yourself to one of nature's most iconic sightings by placing it around your neck.
Priced From: US$120
Table Mountain on a Ring
A ring is a promise. A promise is resolute, rock solid, steady and something you can bank on in the darkest of days. Designed to look like the outline of Table Mountain, this ring mimics the marvel that millions of people come to gaze upon every year.
Constructed from rhodium-plated sterling silver and 0.01 ct diamond, the ring is like the mountain itself; it never tarnishes and is resolute in its promise to be there tomorrow. Give the gift that lasts a lifetime with this one-of-a-kind piece.
Priced From: US$90
By Jewel Africa