Simply Chic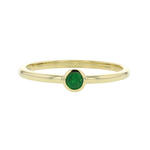 If less is more, this simply chic ring will go the distance. A style staple for all occasions, ensembles and moods, it enhances but never overpowers. A tasteful band of 14kt yellow gold shows off a single Zambian Emerald in this timeless ornament.
Emerald, which is classified as a precious stone of vivid green, and gold are complimentary colours that will elevate even the simplest of outfits. In true South African fashion and style, wearing green and gold shows a sense of pride and sophistication. Trend-setters around the world will know that color stone rings are timeless and always a stand-out from the ordinary.
Buy the emerald stacking ring today and have a go-to item for when only understated elegance will do.
By Jewel Africa