Over the Moon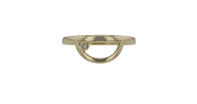 Using the crescent moon as inspiration, the designers of this stellar 9 kt yellow gold ring modelled a piece of jewellery that captures the wonderment of looking to the stars. They mimicked starlight with a 0.02 ct diamond, subtly off-centred to emphasise the celestial emptiness of the design's negative space.
Order this ring from SouthAfrica.co.za and experience its other-worldly beauty.
Priced From: US$160
From Venus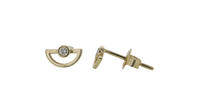 Traditionally, the half circle symbolises that which is incomplete. The designers of these earrings knew that the pair forms one perfect loop of alluring 9 kt gold. At 0.03 ct a piece, the diamonds on these heavenly yellow gold earrings are undeniable focal points, challenged only by the strong geometric pattern.
Buy these earrings as an investment; wear them as a tribute to all that completes you.
Priced From: US$190
By Jewel Africa