Homegrown Emeralds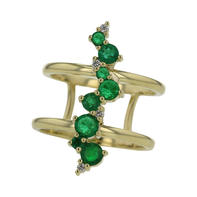 There's no better use for 14 kt yellow gold than to serve as an arena to a festival of precious stones. In this stunning ring, seven brilliant-cut diamonds threaten to steal the show but are equally matched by seven stunning Zambian emeralds.
Alluring, elegant and glamorous, this timeless design will be approved of by jewellery tastemakers. Invest in your piece today.
Priced From: US$1250
Zambian Jewels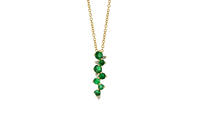 Imagine your neck playing host to an intricate series of jewels set in precious gold. With this piece, you need not imagine. This one-of-a-kind pendant sees seven Zambian emeralds expertly stacked beneath a 14 kt yellow gold rolo chain with a smattering of diamonds – seven brilliant-cut stones to be exact.
Invest in this piece today and let it intensify your daytime and evening looks.
Priced From: US$1160
Authentic Stones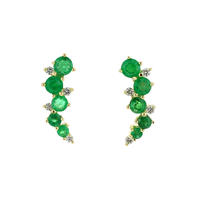 Nothing completes a look like the perfect pair of earrings. This set will take you from modest to glam in seconds. Pure sophistication, it features a constellation of Zambian emeralds that are punctuated by seven brilliant-cut diamonds and 14 kt yellow gold.
Adorn yourself with this timeless creation year after year. Make your investment today.
Priced From: US$1210
By Jewel Africa