Shapes and Shadow
Harness the iconic spirit of Table Mountain when you don this classic necklace. Designed after the silhouette of this natural wonder, it's a tasteful nod to nature's ingenuity.
Available in gold, it is an accessories closet must-have and invaluable addition to a tastemaker's jewellery collection.
Pair it with other pieces or wear it on its own to enhance a minimalist ensemble.
Priced From: US$140
Natural Accents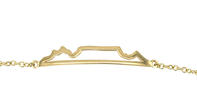 Purchase this distinct bracelet and adorn yourself with nature's artistry. Styled after the incredible Table Mountain in South Africa's 'Mother City', it's a delightful piece of decorative art for the discerning wearer.
The 9 kt yellow gold necklace is the perfect enhancement to classic outfits and is as versatile as it is striking.
Celebrate a natural wonder and African artistry when you procure this style standout.
Priced From: US$140
Style and Essence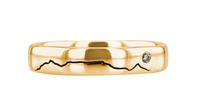 An elegant tribute to the iconic Table Mountain, one of Africa's most notable natural wonders, this ring is a tasteful work of art.
Made of gorgeous gold, it outlines the shape of the table-topped mountain and presents a delightful diamond accent. A restrained accessory for all occasions, it is suited for the selectively stylish.
Buy yours today and carry the spirit of the mountain with you.
Priced From: US$370
By Jewel Africa