Inspired by Nature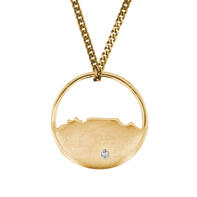 Add this stunning gem to your jewellery collection and harness the majesty of Table Mountain. One of nature's most breathtaking wonders, the flat-topped peak is the inspiration for this classic pendant.
Made of 9 kt yellow gold, with a 0.02 ct diamond at the centre, it epitomises artful design and simplicity.
Begin your collection with this classic and wear it for years to come.
Priced From: US$270
Ringing in Style
Adorn yourself with this fetching ring, an elegant tribute to the iconic Table Mountain.
Available in 9 kt yellow gold, with a sublime 0.01 ct diamond accent, it is an exquisite nod to nature's artistry.
Add this classic piece to your ring collection today!
Priced From: US$230
By Jewel Africa