Peak After Dark
A striking homage, this pendant depicts Cape Town's iconic Table Mountain under moonlight.
Hanging on a 45 cm rolo chain, this versatile piece will take you from day to night. Artful, sleek and elegant, it'll add a touch of class to your ensembles.
Buy it in yellow gold and carry a piece of luxury with you always.
Priced From: US$250
Hint of Class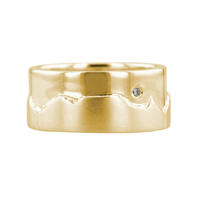 Add a classic touch to your day-to-day outfits with this tastefully intricate ring.
Designed after the iconic lines of Table Mountain, one of nature's most renowned wonders, it's a beautiful piece of art and embellishment.
Made of 9 kt yellow gold, it is a jewellery staple whose timeless elegance will never go out of fashion. Whatever the occasion, you'll have a piece of iconography on your finger.
Priced From: US$370
By Jewel Africa