Iconically Silver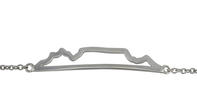 It's the finer details that give this bracelet its distinct form and shape. A true masterpiece handcrafted from the finest rhodium-plated sterling silver, the bracelet gives rise to one of South Africa's most majestic marvels.
Table Mountain's skyline is neatly carved out and rests peacefully at the centre. The simplicity of the bracelet is what makes it so beautiful. Understated and raw, the beauty of Cape Town is captured in sterling silver.
Priced From: US$50
Starry Skies Celebrated in Silver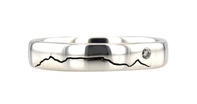 At just 4 mm wide, this rhodium-plated sterling silver ring will offset your other jewellery and bring balance to your hand with a stylish design that is unique yet exquisitely tasteful. Handcrafted for authenticity, it features a dark engraving of Table Mountain's skyline.
A 0.02 ct diamond is embedded in the ring just past Lions Head, representing a brightly lit full moon that allows the skyline to radiate with natural splendour. This magnificent ring is bold and precious, just as Table Mountain is to the people of Cape Town.
Priced From: US$120
Wear a World Wonder
This rhodium-plated sterling silver necklace may seem plain at first sight, however, stare at its beauty for a moment longer and you will see why it's a wonder. The understated minimalist design shines brightly with Table Mountain as the focal point.
Resting firmly at the centre of a 45 cm rhodium-plated sterling silver rolo chain, the mountain stands out. Millions of people come to Cape Town every year to bask in the majestic scenery that surrounds Table Mountain. Now is your chance to carry a World Wonder around your neck in tasteful grace.
Priced From: US$50
By Jewel Africa