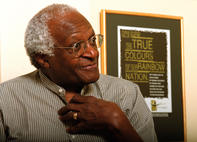 © Eric Miller
Archbishop Desmond Tutu in his Cape Town office 13/11/2001.
One of South Africa's most loved icons, Desmond Tutu is most known for being a human rights activist and a 1984 Nobel Prize winner. He became a household name as a Bishop of the Anglican church in the 1970s and 1980s, when he actively opposed apartheid governance. He later became the Archbishop of Cape Town, becoming the first black African to be elected into the role.
Coining the term "rainbow nation", Tutu stands firm in his dedication to the ideals of tolerance and inclusiveness, which informs both his political and theological work. His interest in people and the pursuit of a peaceful world has led him to become involved in human rights issues not only in South Africa, but all over the world.