Ordained as a Priest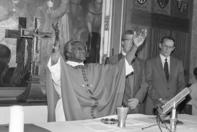 ©Eric Miller
Desmond Tutu at Soweto.
When Desmond Tutu started his theological study and became involved in the church he was politically uninvolved. All through his career, he tried to remain apolitical by refusing to align himself with any specific political party. But his humanitarian nature would not let him ignore the suffering he witnessed under the oppressive apartheid regime.
He dreamt of a free and democratic society without racial divisions. He envisioned a society of equal civil rights for all, with no South African Pass laws, a common education system and no more forced deporting of people from South Africa to so-called "homelands". After Tutu was ordained as a priest in 1960 he moved to the UK to further his theological study.
When he returned to South Africa he had to become re-accustomed to life under oppression. Upon his return, he worked as a lecturer before moving back to the UK to work under the Theological Education Fund (TEF) where he was exposed to oppression in other Third World countries, specifically those in other African countries.
An Active Role in Protests
When Tutu came back to South Africa in 1975 after his theological studies abroad, he was appointed Dean of St Mary's Cathedral in Johannesburg and later the Bishop of Lesotho. It was then that he started to play a more active role in protesting the situation in South Africa. Being a public figure with access to a large audience, Tutu spoke out about social injustices.
He teamed up with other struggle icons like Winnie Mandela and Mamphela Ramphele in spreading their message. He called for international economic boycotts of South Africa and openly criticised the 1967 Terrorism Act imposed by the apartheid government.
A month before the student uprising on 16 June 1976 Tutu sent an open letter to the then Prime Minister, John Vorster imploring him to remember the path Afrikaners took to gain their freedom and suggesting ways to peacefully end the struggle for the rest of South Africa's freedom.
He warned of inevitable widespread violence if apartheid was not dismantled. His letter was written off as an attempt to spread political propaganda. When the student uprisings eventually erupted, Tutu supported parents and students in the aftermath.
Tutu's Passport is Confiscated
In 1978 Tutu was elected General Secretary of the South African Council of Churches (SACC) and was determined to use his position to put the organisation at the forefront of human rights activism. When one of the church ministers, John Thorne, was arrested in 1980, Tutu led a march to protest, leading to his own arrest.
He and others were detained overnight and issued with fines. The government also seized his passport. A meeting between church leaders and the government was held after the incident, Tutu and then Prime Minister PW Botha among them. At the meeting, the church urged the government to dismantle apartheid before more violence and conflict ensued.
It was a fruitless meeting, but Tutu was not swayed in his determination to reach South Africa's leaders. 1980 was also the year Tutu signed a petition calling for the release of Nelson Mandela from prison, resulting in the opening of correspondence between the two.
When Tutu's passport was returned to him in 1981 he visited 10 countries in Europe and North America to spread the word on conditions under apartheid, imploring leaders of the countries to impose economic sanctions that would put pressure on the South African government. When he returned to South Africa his passport was confiscated again.
The government tried its best to curb the influence Tutu had gained. One such attempt was the sponsoring of the Christian League, an organisation which accepted money to run campaigns against the SACC of which Tutu was the head.
Furthering the Message for Peace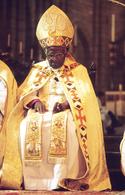 ©Eric Miller
Archbishop Desmond Tutu.
In 1982 Tutu addressed letters to country leaders in an attempt to further his message of peace. This included letters to the Prime Minister of Israel calling for him to cease the bombings of Beirut as well as to the Palestinian leader Yasser Arafat appealing for him to grant more recognition to the existence of Israel.
He thanked the leaders of Zimbabwe, Lesotho and Swaziland for hosting South African refugees and asked them not to send the refugees back home. He also visited the United States of America (USA), when his passport was returned to him, to present an address at the Triennial Convention of the Episcopal Church.
While he was there he criticised the then President Ronald Reagan for the relations he maintained with the South African government, saying that he endorsed racism by doing so. He became popular with the American public who likened him to their own struggle icon, Martin Luther King Jr.
The white conservatives in South Africa were not impressed by this, responding with angry criticism. Tutu was elected Patron of the United Democratic Front (UDF) in 1983. He supported his wife, Leah, in her appeal for better working conditions for domestic workers. 1983 was the year she helped found the South African Domestic Workers Association.
It was also the year Tutu met with the Pope to discuss the circumstances in South Africa. When he heard that the people of Mogopa in the Western Transvaal were to be removed to the Bophuthatswana homeland and their homes would be destroyed he and other church leaders held a night vigil. Among the participants was Dr Allan Boesak.