The Legacy of Desmond Tutu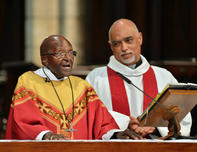 ©Eric Miller
Archbishop Emeritus Desmond Tutu at 85 (2016).
Even after apartheid was abolished, Archbishop Desmond Tutu knew that his work was far from over. He still had a dream for world peace and remained focused on spreading his message and building his legacy. In 1998 he co-founded the Desmond Tutu Peace Centre (DTPC) with his wife Leah.
The centre started its work in Orlando West, Soweto before extending to Cape Town in 2000. The Cape Town-based centre went on to launch an Emerging Leadership programme. Tutu himself got back in touch with his roots as a teacher. He taught at the Episcopal Divinity School in Cambridge, Massachusetts in 2002.
In 2003 he taught at the University of North Carolina and in 2004 he returned to his alma mater, King's College London, as a visiting professor. He also served as a visiting professor for two years at Emory University in Atlanta, Georgia where he taught theology.
International Campaigns for Peace
Tutu maintained his outspoken nature on the global issues that concerned him. He actively used his position to do what he could to create a better world. This includes: In 2006 Tutu launched a global campaign to combat child trafficking through registering all children at birth.
In 2008 Tutu joined a pro-Tibetan protest in San Francisco during the Tibetan Unrest. At the protest, he called on heads of state to boycott the opening ceremony of the 2008 Summer Olympics in Beijing for the sake of the Tibetan people. In 2009 he helped establish the Solomon Islands' Truth and Reconciliation Commission which was modelled on South Africa's own Truth and Reconciliation Commission.
Tutu attended the United Nations Climate Change Conference in 2009 where he called for a disinvestment in fossil fuels. In 2017 Tutu joined 10 Nobel Peace Prize laureates in the plea for Saudi Arabia to halt the executions of 14 youngsters who participated in the Saudi Arabian protests and later that year he asked Myanmar's leader to stop the persecution of the Muslim Rohingya.
Involvement with Health Issues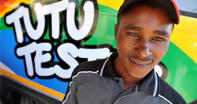 ©Eric Miller
Masazane Nogaga waits to undergo a test at the Tutu Tester. April 2009 Cape Town.
Since Tutu was diagnosed with prostate cancer and suffered ill-health during his time serving on the Truth and Reconciliation Commission in the 1990s he has been deeply involved in health issues.
He turned his attention to HIV/AIDS and tuberculosis (TB). In 2004 the Desmond Tutu HIV Foundation was established in his honour. The foundation started out with HIV research and moved on to include HIV treatment, prevention and training and TB treatment monitoring.
Tutu has been outspoken about his concern for the HIV epidemic, even voicing his concern when Pope Benedict XVI was elected. The Pope was known for being conservative with regard to gender and sexuality issues and Tutu expressed concern that the Roman Catholic church would continue in its opposition to the use of condoms.
Tutu also became a patron of the South African Prostate Cancer Foundation. In 2014 Tutu shared that he did not believe in the preservation of life at all costs. He became a supporter of legalised assisted dying and said he would want the option to be available to him.
Chair of The Elders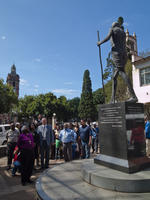 ©Roger de la Harpe
Mayor Mike Tarr and Deputy Mayor Jabu Ngube with Archbishop Desmond Tutu at the Mahatma Gandi statue, Pietermaritzburg, KwaZulu Natal.
In 2007 Tutu was elected as chair of The Elders, a group of world leaders convened to contribute the wisdom, intelligence, integrity and values to resolve the world's conflicts.
Other members included Nelson Mandela (former South African president), Jimmy Carter (former American president), Kofi Annan (former UN Secretary General) and Mary Robinson (former Irish President).
He led the group's first mission to Darfur in Sudan in an effort to help curb the conflict there. The Elders went on to visit the Ivory Coast, Cyprus, Ethiopia, India, South Sudan and the Middle East. Tutu stepped down from his position in 2013.
Supporting Gay Rights
Tutu is widely recognised for his support for gay rights. This was a controversial position for him to take given his religious affiliation. Nevertheless, Tutu stands firm in his stance that discrimination on the grounds of sexuality is equal to discrimination on the grounds of race or gender.
He went so far as to writing a letter to George Carey after the 1998 Lambeth Conference of bishops where it was reaffirmed that the church opposed same-sex marriages. In the letter, Tutu said that he was ashamed to be an Anglican and that if conservatives disliked inclusiveness they could leave.
He accused the church of being obsessed with homosexuality. "If God, as they say, is homophobic, I wouldn't worship that God." - Desmond Tutu
The Israeli-Palestinian Conflict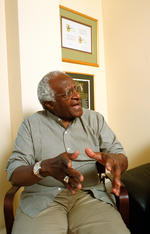 ©Eric Miller
Archbishop Desmond Tut in his Cape Town office Nov 2001.
Tutu has always been interested in the Israeli-Palestinian conflict and spoke out about it even while apartheid was in full swing.
After the fall of apartheid he maintained this interest. In 2002 Desmond Tutu presented a speech in which he openly criticised Israeli policy pertaining to Palestinians and called for sanctions against the country.
He compared the situation to the apartheid system. He was to head the United Nations mission to the Gaza Strip after Israeli Defense forces killed 19 civilians in 2006, but cancelled after Israel refused to grant him clearance.
Questioning The Iraq War
In 2003 Tutu took part in a protest against the United State's plans to launch the Iraq War. Aside from the New York demonstration in which he participated he also telephoned Condoleezza Rice, pleading that the US government refrain from going to war.
He questioned why Iraq was being targeted for possessing the same weapons possessed by Europe, India and Pakistan. In 2004 he appeared in the Off-Broadway production, called Honor Bound to Defend Freedom, which criticised the US government's detention of prisoners at Guantanamo Bay.
He was vocal in his dissent at the detention without trial of people suspected of terrorism in both the US and UK, comparing the detentions to those that occurred during apartheid. In 2012 he called for George W. Bush and Tony Blair to be tried by the International Criminal Court for initiating the Iraq War.
Criticism of South Africa's New Leaders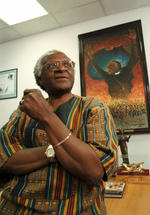 ©Eric Miller
Cape Town, Archbisop Desmond Tut in his office at TRC.
Although pleased that South Africa's oppressive government had been toppled in 1994, Tutu was careful to be vigilant of the new government's activities and did not hesitate in calling out faults he noticed.
Some of the things he questioned about the new government included its spending on armaments, its policy on Robert Mugabe's government in Zimbabwe and the pattern of Nguni-speakers to dominate top political positions.
He accused Thabo Mbeki of demanding the blind obedience of ANC members and criticised him for not paying enough attention to the HIV/AIDS pandemic.
Tutu also criticised his successor, Jacob Zuma, for being immoral when accusations of rape and corruption against him surfaced.
Tutu's Retirement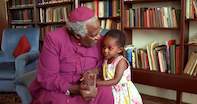 ©Eric Miller
Desmond Tutu with Granddaughter.
Tutu retired from public life in 2010 at the age of 79. He continued with his work within The Elders and Nobel Laureate Group and supported the Desmond Tutu Peace Centre, but resigned from his positions as Chancellor of the University of the Western Cape and representative on the United Nations advisory committee on the prevention of genocide.
He has gained icon status in South Africa and has been recognised with numerous honorary doctorates, as well as awards such as the Nobel Peace Prize and American Presidential Medal of Freedom.