Nelson Mandela is Released
©Eric Miller
Cape Town, Mount Nelson Hotel for De Klerk's 70th Birthday, 17 March 2006. L-R, Archbishop Desmond Tutu, Zanele Mbeki, Nelson Mandela, De Klerk & Elita.
In 1990 FW de Klerk announced the unbanning of political parties like the ANC and political prisoners were released, among them Nelson Mandela. After his release from prison, Nelson and Winnie Mandela stayed with Desmond Tutu at his home in Bishopscourt, Cape Town.
Tutu got to work calling for the end of sanctions against the country and the laying down of arms by anti-apartheid groups as well as for church leaders to drop their political affiliations.
When violence erupted between the Inkatha Freedom Party (IFP) and ANC later that year Tutu cancelled his planned trip to the USA in order to engage in talks with Nelson Mandela, FW de Klerk and IFP leader, Mangosuthu Buthelezi in attempt to broker peace.
When the violence spread he travelled to affected townships in aid of the victims. That November he organised a summit for church leaders and political leaders to urge them to work together to end the violence. During this time Tutu suffered ill health, which resulted in him taking a four-month sabbatical in Atlanta, Georgia.
Excited for a Rainbow Nation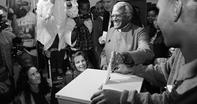 ©Eric Miller
Desmond Tutu votes.
In the build-up to South Africa's first democratic elections in 1994, Tutu was excited at the prospect of his dreams for the country being realised. He allowed his face to be used in campaign posters and when Nelson Mandela was elected president he organised the religious component of his inauguration celebrations.
Tutu insisted on a multi-religious ceremony including Christian, Muslim and Jewish components. He fully supported the idea of different people living together in harmony. He coined the term "rainbow nation" used for post-apartheid South Africa in the spirit of people of all races, cultures and religions celebrating each other, free of the imposition of segregation.
Chairing the TRC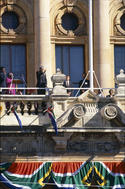 ©Eric Miller
Cape Town, Grande Parade. Nelson Mandela and Archbishop Desmond Tutu greet the crowds during the presidential inauguration, 10 May 1994.
In the aftermath of apartheid, the question arose of how the government would deal with the atrocities committed in previous years. The National Party advocated amnesty packages while the ANC called for former state figures to be put on trial for their crimes. In the end, the Truth and Reconciliation Commission (TRC) was established and Tutu was asked to serve as the chair.
The aim of the TRC was to investigate the human rights abuses committed by groups both supporting and resisting apartheid governance.
Tutu had a three-pronged approach to handling the cases put before him. It consisted of the following: Accused parties fully and openly disclosing their activities: an act of confession. Accused parties being granted legal amnesty from prosecution: an act of forgiveness. Accused parties making amends with those whom they had wronged: an act of restitution. Tutu was deeply touched by the stories of horrific human rights abuses he listened to and was often overcome with emotion.
When stories of violence and torture at the hands of the ANC surfaced, the party feared its reputation would be tarnished. It wanted to alter part of the TRC final report to avoid damages, but Tutu would not allow it. He warned of the abuse of power saying that, just as it happened in other countries throughout history, the new government could easily become as oppressive as the old one.
In 1996 Tutu retired from his duties as Archbishop of Cape Town in order to prioritise his work on the TRC and in 1998 he presented the TRC's five-volume report to Nelson Mandela at a ceremony in Pretoria. He recognised the TRC's shortcomings but was ultimately pleased with its work.