On 16 December 1995, for the first time, South Africa celebrated a Day of Reconciliation whereby both the Afrikaner and liberation struggle traditions were acknowledged symbolically to be part of a democratic and equal society. The date, 16 December, is significant because of two events that took place in South Africa's very turbulent past. In 1838, the Voortrekkers were making their preparations to fight the Zulus at the Battle of Blood River.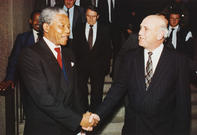 ©Eric Miller
Cape Town 1990, SA President FW De Klerk & ANC Deputy President Nelson Mandela shake hands at the conclusion of talks to end apartheid.
On 16 December they took a vow before God, that should they defeat the Zulus, they would build a church, and that their descendants would observe this day as a day of thanksgiving. During the apartheid years, 16 December was decreed as a public holiday, known as the Day of the Vow. December 16th was also the date when Umkhonto we Sizwe (MK) was formed in 1961. Up until this date, the African National Congress (ANC), used forms of passive resistance to fight against the injustices of apartheid.
But, after the Sharpeville Massacre on 21 March 1960, where peaceful protestors were shot, indiscriminately, it was felt that peaceful protests alone were not going to change the apartheid laws. Umkhonto we Sizwe was formed as the military wing of the ANC.
The main function of MK was to perform acts of sabotage that would bring focus to the struggle against apartheid. But organisational issues and the arrest of its leaders in 1963 thwarted MK in its mission. Nevertheless, from its inception, 16 December has been a day to commemorate MK.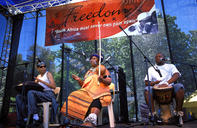 ©Eric Miller
A concert given to mark the inauguration of the Peace Park Initiative launched to promote reconciliation in South Africa
December 16th remains a National holiday in South Africa, but now represents reconciliation and national unity, where the lessons and grievances of the past can forge new hope for the country and her citizens. All South Africans are asked, especially on this day, to renew their commitment to the ideals of human dignity and equality.