Pursuing Teaching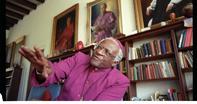 ©Eric Miller
Desmond Tutu at Bishopscourt.
Desmond Tutu always wanted to be a physician, but when he struggled to find the funds to pay for medical school he opted to pursue a career in teaching. He started training at the Bantu Normal College in 1951.
While there he was deeply involved in student affairs, helping to organise the Literacy and Dramatic Society, charing the Cultural and Debating Society and serving as treasurer on the Student Representative Council. He also took five correspondence courses at the University of South Africa.
In 1954 Desmond Tutu graduated with his Teachers Diploma and in 1955 obtained his Bachelor of Arts Degree. 1955 was also the year Tutu began his career as a high school teacher where he got first-hand exposure to the Bantu Education Act that was implemented in 1953. Under the Act, black students were subjected to a rudimentary education, which seriously limited their future prospects. Tutu was outraged by this and eventually left teaching in protest.
Theological Studies
In 1958 Tutu enrolled at St Peter's Theological College where he studied the Bible, Anglican doctrine and Christian Ethics. He gained a reputation for being exceptionally intelligent and industrious while maintaining a sense of humility. His paper on Christianity and Islam won the archbishop's annual essay prize.
Even though political tension was rising in South Africa as the anti-apartheid struggle intensified, Tutu remained largely apolitical. He earned a Licentiate of Theology degree and was ordained as a priest in 1960. In 1962 Tutu moved to the United Kingdom to further his theological studies at King's College London.
The time Desmond Tutu spent in London allowed him some relief from the oppression he faced in his home country and he was free to explore other pursuits such as cricket, which he grew to love. He completed his time there with Bachelor of Divinity Honours and Master of Theology degrees, his dissertation was on Islam in Western Africa.
Tutu left the United Kingdom in 1966 for South Africa. Before he returned home he visited Paris, Rome and finally East Jerusalem where he spent two months studying Hebrew and Arabic. Here he was shocked at the tension between the Jewish and Arab people that he encountered.
Introduced to Black Theology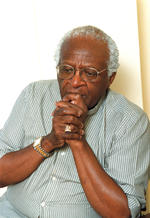 ©Eric Miller
Archbisop Desmond Tutu in his Cape Town office 13/11/2001.
In 1967, back in South Africa, Tutu struggled to adjust to a society which was subjected to harsh segregation and pass laws. Nevertheless, he continued his work lecturing and trying to raise awareness about the plight of impoverished South Africans.
He taught at the Federal Theological Seminary (Fedsem) at Alice in the Eastern Cape before moving to do work at the University of Botswana, Lesotho and Swaziland (UBLS) in 1970.
While he was living in Lesotho Desmond Tutu served as an external examiner for Fedsem and Rhodes University and joined the executive board of the Lesotho Ecumenical Association.
It was also here that he was introduced to Black Theology and was inspired to fuse it with African Theology to fit the South African context with which he was so familiar.
Working for the TEF
In 1972 Tutu moved back to England to work. He was appointed Associate Director for Africa on behalf of the Theological Education Fund (TEF). This position allowed him to travel to Third World countries, including many in Africa.
He wrote about his experiences there, recounting the rampant corruption and poverty in Zaire, the Christian-Muslim interaction in Nigeria, the impressive Kenyan government under Jomo Kenyatta as well as the expulsion of Ugandan Asians under Idi Amin. Tutu served the Theological Education Fund for three years before returning to South Africa in 1975.
Desmond Tutu was appointed Dean of St. Mary's Cathedral in Johannesburg, becoming the first black African to become an Anglican Dean. He also served as the Bishop of Lesotho from 1976 to 1978 when he became the first black General Secretary of the South African Council of Churches.
International Involvement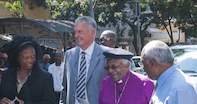 ©Roger de la Harpe
Mayor Mike Tarr and Deputy Mayor Jabu Ngube with Archbishop Desmond Tutu, Pietermaritzburg, KwaZulu Natal 2011.
Desmond Tutu is most remembered for his contribution towards liberation in South Africa, but he was also deeply involved in international affairs including the following: In 1987 he gave the keynote speech at the All Africa Conference of Churches (AACC) in Togo where he spoke of the plight of the oppressed in Africa, imploring the churches to help where they can.
He was later elected president of the AACC. In 1988 Tutu spoke at the Lambeth conference calling for a resolution to the conflict in Northern Ireland. In 1989 he visited Zaire (now the Democratic Republic of Congo) to encourage the churches to distance themselves from the autocratic government.
In 1989 he also spoke out about the Israeli-Palestinian conflict asserting the right of the state of Israel to its territorial integrity and security against attacks by those who would deny its right to exist.
He drew parallels between this situation and the apartheid regime of South Africa. He visited Liberia in 1994 on a mission to organise a ceasefire on behalf of the AACC. In 1995 he was sent to Nigeria by Nelson Mandela to request the release of political prisoners and later that year he visited Rwanda after the genocide to preach and call for justice.