Born in Klerksdorp
©Eric Miller
Desmond Tutu.
On 7 October 1931, Desmond Mpilo Tutu was born to Zachariah (a teacher) and Aletta (a domestic worker) in Klerksdorp in the North West Province of South Africa. He was one of four children in a family that did not have much money. When Desmond was eight years old his father was transferred to a school in Ventersdorp where his family attended the African Methodist Episcopal Church.
From there the family moved to Roodepoort in Gauteng where the family lived before finally settling in Munsieville, a black settlement in Krugersdorp, Gauteng. While living in Munsieville, Desmond earned extra money by collecting and delivering laundry that his mother had washed.
He also sold oranges and peanuts for a small profit and worked as a caddy at the Killarney golf course. He joined the Scouts, where he was awarded Tenderfoot Second Class and a Proficiency Badge in cooking.
High School in Sophiatown
Desmond began high school at Western High School near Sophiatown in 1945. Here he excelled in academics and developed his lifelong love of rugby after joining the school team.
Two years later he contracted tuberculosis (TB) and had to be hospitalised for 18 months. During his hospitalisation, he befriended Father Trevor Huddleston who became a great influencer in his life and under whom he served at the parish church in Munsieville. Huddleston was an English Anglican Bishop working as a priest in Sophiatown.
Desmond was impressed by the respect the priest showed Desmond's mother, a person who was considered as being much lower than Huddleston in social standing. He never forgot the way Huddleston treated everyone with dignity, it inspired him later on in life when he was faced with the struggle against apartheid.
Due to his illness, Desmond fell behind at school but was nevertheless allowed to join the Matriculation class of 1950. It was always his dream to become a physician, so he stayed up late most nights, using candlelight to study by, for his matric exams.
He passed and was accepted into the Witwatersrand Medical School to study further. But, unable to find the funding for medical school, he decided to become a teacher instead and enrolled in the Bantu Normal College to complete his teacher's diploma.
Working as a Teacher
While Tutu worked as a teacher he met Nomalizo Leah Shenxane, a fellow teacher. The two were married in 1955 and have four children together.
Tutu resigned from teaching when the Bantu Education Act was instituted, refusing to endorse the injustice that forced inferior education on people based on race. He moved on to continue his theology studies at St Peter's Theology College in Johannesburg. This paid off in 1960 when Tutu was ordained as an Anglican priest.
From 1962 to 1966 he worked on getting his Bachelors and Masters degree in Theology from King's College London. While Tutu was abroad he was inspired by the freedom of expression as well as the easy access to knowledge and education he witnessed there. He wanted this kind of freedom for his own people back in South Africa.
A Well Respected Figure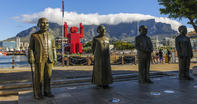 ©Roger de la Harpe
Nobel Square, dedicated to South Africa's four Nobel Peace Prize laureates: Albert Luthuli, Desmond Tutu, FW De Klerk and Nelson Mandela. V&A Waterfront, Cape Town.
When Desmond Tutu returned to South Africa in 1967, he joined the staff of the Federal Theological Seminary in Alice and became the chaplain at the Universtiy of Fort Hare. In 1975, Tutu was ordained the Dean of St Mary's Cathedral, Johannesburg, and soon after elected as Bishop of Lesotho.
1975, was a tumultuous time in South Africa with major political upheavals and opposition to apartheid occurring. It was during this time that Desmond Tutu was appointed to the post of General Secretary of the South African Council of Churches (SACC).
The SACC represented all the major Christian churches in South Africa, other than the Dutch Reformed Church and the Catholic Church. The SACC became a leading institution on the spiritual and political life of the Christians in South Africa and lent them a platform voice their aspirations.
During 1978 and 1985, Tutu was in the forefront on the national and international stage in the fight against injustices wrought by apartheid. Desmond Tutu was awarded the Nobel Prize for Peace in 1984 as a gesture of support for the role he played in dismantling apartheid.
Desmond Tutu in 1985, was elected as Bishop of Johannesburg, during this time he continued to push for change, and promoted unity between the black and white Anglicans of South Africa. In 1986, he was elected to become the Archbishop of Cape Town and in 1987, Tutu was elected as President of the All African Conference of Churches.
Post Apartheid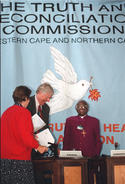 ©Eric Miller
Desmond Tutu at the opening of the Western Cape hearings of the TRC. With him are TRC Commissioners Mary Burton and TRC Deputy Head Alex Boraine.
When apartheid was finally abolished in 1994, Tutu was invited to chair the Truth and Reconciliation Commission, by Nelson Mandela, in the hopes of restoring peace to the nation. Tutu has been honoured both locally and internationally, over the years, for his contribution in trying to make South Africa an equal society.
In recognition of his love of literature and education, Tutu has been awarded numerous honorary degrees, and many schools and scholarships have been named after him. In 1987 he won the Pacem in Terris Award, an award named after a letter by Pope John XXIII that calls upon people to secure peace among nations.
In 2008, Illinois Governor Rod Blagojevich proclaimed 13 May "Desmond Tutu Day" and in 2017 Queen Elizabeth II of England appointed him as Bailiff Grand Cross of the Venerable Order of St John.