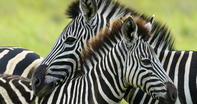 Zebra in Isimangaliso Wetland Park, South Africa.
Seeing a wildlife film engages your intellect, watching animals interact with each other from a comfortable vehicle activates the photographer in you, but coming across a leopard makes you feel like prey…
Learning about the mammals of South Africa gives you an insight into the animals behaviour. And learning about the mammals of South Africa is now so much easier for all South Africans - SouthAfrica.co.za is an excellent source of information in all 11 official languages of the country.