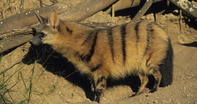 © Nigel J Dennis
Name
Aardwolf (Proteles cristata)
The name aardwolf is an Afrikaans word literally meaning "Earth Wolf" based on its appearance and dietary preference for termites found in mounds and underground.
Appearance
Standing at a height of only 40 - 50 cm, the aardwolf resembles a small hyena. The aardwolf has a tail length of 20- 25 cm a total length of 65 - 80 cm from nose to tail. It weighs a slight 8 - 12 kg with a yellowish-brown coat covered in stripes along its back. Its bushy tail and long striped fur rise when the aardwolf feels threatened or scared.
Aardwolf Diet
The aardwolf is a carnivore but mainly feeds on two species of termites. When the one species goes dormant during the winter season, then the aardwolf will switch to feeding the other termite species. With the exception of its canines, the aardwolf's teeth have become smaller due to its preference for eating insects.
The aardwolf can eat between 200 000 to 300 000 termites in one feeding. It uses its long, flexible, sticky tongue to eat the termites. Due to its specific diet, the aardwolf can only live where these termites are found in South Africa. The aardwolf has developed acute hearing to help them detect termites from the ground. Aardwolves also enjoy eating smaller prey such as bird, mice, carrion, and eggs.
Aardwolf Breeding
Not much is known about these secretive animals. Males and females are both solitary and only come together to breed. Breeding season occurs throughout the year and 2 - 4 cubs are produced at a time. The female carries the pups for a period of around 90 - 100 days and weaning cubs are fed regurgitated termites by both parents.
Aardwolf Behaviour
The aardwolf is solitary creature and is nocturnal. They are sometimes seen in small groups or pairs only for breeding purposes. The aardwolf is also a lone hunter, as they cannot take their food back to their pack to be shared. The aardwolf usually lives in used burrows from other animals such as the aardvark, porcupine or large springhares. If the aardwolf cannot find a suitable den, they are able to dig their own holes to make a home.
Where They Are Found
The aardwolf is native to South Africa and throughout Eastern and Southern Africa. The aardwolf enjoys wide, open, dry spaces among savanna and grassland. The aardwolf population is split into two populations. The one is located in South Africa and the other extends from Tanzania up to southern Egypt. In South Africa, the aardwolf can mainly be found in the Karoo and Northern Cape.
Vital Statistics
Weight
Female: 7,7 - 13,5 kg
Male: 7,7- 13,5 kg
Length
Female: 90 cm
Male: 90 cm
Gestation Period
2 months
No of Young
2 - 4 cubs
Order
Carnivora
Family
Hyaenidae
Breeding
2 - 4 young are born from September - April after a gestation period of ± 2 months.
Spoor Description
The five toes on the forefeet of the aardwolf only leave a spoor trail of four toes, as the fifth claws is situated high above the paw. The hind legs has 4 toes. The aardwolf claws have a strong and broad base, but look narrow from above and have a curve of over 20mm.