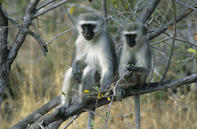 © Nigel J Dennis
Name
Monkey
Appearance
From the pygmy marmoset measuring 15 cm in height to the mandril of nearly a meter, the monkeys of the world vary in size and more than 250 species. The difference between the monkey and ape is a confusing matter as different categorisations are used by different organisations.
Monkey Behaviour
Monkeys are popular amongst guests on safari, providing great entertainment in their naughty and almost human-like ways. However, they can become big nuisances with food as they tend to raid kitchens and tents in lodges and campsites. It is a difficult problem to solve as this trait is passed down with each generation.
Monkey Species in South Africa
The Samango Monkey and Vervet Monkey are both found in South Africa.