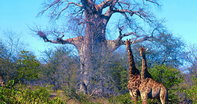 South Africa's natural heritage is made up of World Heritage Sites as well as its spectacular mountains, wildlife including the 'Big Five', plants, birds and all the natural wonders of this country, on the southernmost point of Africa. Through this we wish to empower all citizens to learn about their own heritage in their own language, be proud of their roots and move into the future by understanding and respecting the natural beauty of this great land.
SouthAfrica.co.za provides readers with interesting information in our South African Nature Guide on marine life, mammals, reptiles, birds, flowers and trees,...
more
South Africa boasts with eight World Heritage Sites, allocated by the United Nations Educational, Scientific and Cultural Organization. These places hold geological and cultural significance...
more