Our livestock content partners work closely with the department of Agriculture, Forestry and Fisheries to ensure that South Africa's meat and meat-related product industry is reputable with a distinguished and reliable international reputation. Furthermore, these partners are divided into societies, associations and non-profit organisations to diversify industry representation across all sectors.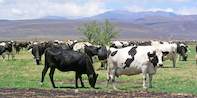 ©Louise Brodie
The livestock sector of South African agriculture is a large industry both locally and internationally. The country mainly farms with cattle, poultry sheep, pig and goat, as well as duck, crocodile, rabbit, ostrich and marine products. As these sectors are large, they form part of societies or associations that ensure both the farmer and its market are well-represented.
South Africa Online ® pays homage to these societies and associations that ensures that the needs of the livestock farming industry of South Africa are met.