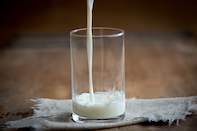 Milk SA is a non-profit organisation that was established in 2002 to represent the common interests of all the dairy producers and processors of South Africa.
Milk South Africa represents the two main associations within the dairy industry. These are The Milk Producers' Organization (MPO) which represents the primary milk producers and The South African Milk Processors' Organisation (SAMPRO), which incorporates the secondary industry members.
After the closure of the government-controlled Milk Board, there would have been a vacuum left where common strategic matters could be addressed or dealt with and all parties along the milk value chain could collaborate. Following this, it was decided to establish an organisation that represented both entities in their common goals.
The two organisations agreed to a statutory levy imposed on each litre of milk and this would be collected and administered by Milk South Africa. This was granted by the Minister of Agriculture through consultation with the National Agricultural Marketing Council (NAMC) and the producers, farmers, and processors.
This has led to effective communication across the industry, and with a wide range of businesses and trade vendors who support the efforts of Milk SA.
Milk SA consists of a board of ten directors consisting of directors nominated by the members and by MPO and SAMPRO from across the country. An executive and operations team manages the administration and logistics of the organisation.
The dairy cow industry in South Africa is one of the largest agricultural industries in the country, employing more than 40 000 people....
more