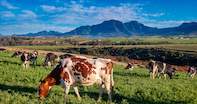 © Chris Daly
Dairy farm in South Africa.
The dairy cow industry in South Africa is one of the largest agricultural industries in the country, employing more than 40 000 people.
Starting a dairy farm is more than just owning a few dairy cows and milking them two times daily. It requires knowledge of dairy cow diseases, correct housing and feeding of dairy cows, understanding milking equipment and assuring absolute cleanliness and hygiene during milking and the processing of milk.
While the Milk Producers' Organisation (MPO) provides training and supports sustainable dairy farming in South Africa, SouthAfrica.co.za aims to provide easy-to-read content in all 11 languages that could help new farmers understand basic principles about dairy farming in South Africa.