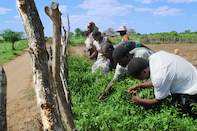 ©Eric Miller
HPSA, formerly known as Heifer International South Africa, is a non-profit and a public benefit organisation that works with impoverished rural communities to end hunger and poverty in South Africa by empowering these communities with skills in sustainable agriculture and commerce.
In 1995, soon after apartheid ended, HPSA began researching and initiating several succesful pilot projects in order to determine whether or not the organisation could function effectively in South Africa.
In 2000, the organisation was registered under South African law. A statistic noted in 2012 that the organisation had helped over 8 000 individuals since 1999. HPSA is primarily involved in the Eastern Cape, Limpopo and KwaZulu-Natal.
HPSA's intention is to transform underdeveloped South African communities into achieving sustainable development to improve the lives of thousands of families.
The organisation serves to arm rural farmers with the necessary knowledge, skills, tools and resources to ensure local farms in rural areas grow into small businesses that can sustain feeding and supporting the surrounding community. HPSA provides local farmers with training and on-going support and the organisation contributes inputs such as livestock, seeds and trees to the most vulnerable households.
Each of the recipients of HPSA's contributions agree to contribute the equivalent (in skills and resources) of what they have received to another poor family within the community, thereby creating a system in which poor and vulnerable South African communities are able to achieve sustainable and successful farming and become self-reliant.
HPSA is a product of the older, global organisation known as Heifer International and both associations continue to help families become small, successful farmers who can feed and support their families and their communities.