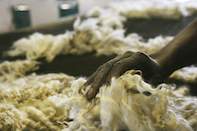 Mohair South Africa's intention is to develop international alliances and partners in order to increase the production, awareness and consumption of mohair production; therefore growing the mohair industry both locally and internationally. ​​​​​​​
Mohair is the durable and resilient fabric or yarn that is made from the hair of the Angora goat. As it stands, South African currently produces about half of the world's mohair and the product is considered the epitome of luxury.
Production of mohair in South Africa therefore comes with great responsibility. Mohair South Africa was established to assume this responsibility by ensuring the ethical and sustainable implementation of mohair production practices.
The organisation is focused primarily on the promotion of South African mohair and lends its support to all within the industry. Through maintaining sustainable demand and profit between all the industry players from producer to processor and from buyer to manufacturer, Mohair South Africa continuously seeks to advance and benefit the whole industry.
Mohair South Africa also invests extensively in research to ensure the quality, volume and production of mohair products continually improves. They also share accurate market-related information and knowledge of ethical and sustainable production practices to benefit all the industry roleplayers.
A wide variety of mohair products are produced in South Africa including socks, blankets, duvets, scarves, as well as a range of other clothing and décor items. Abroad, mohair is used by high-end fashion labels...
more