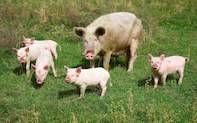 ©Alexandr Frolov
Pork 360 was developed out of the quality assurance system of Premier Pork Producers, which was launched in Gauteng in 2009.
The management of the scheme was taken over by South African Pork Producers Organisation's (SAPPO) in 2011, when it was opened to other provinces because of the realisation that a national scheme was needed. The system was then renamed Pork 360.
The initial aim of the scheme was to ensure a consistent supply of high quality pork, by certifying that participating farms complied with certain minimum production standards in terms of food safety and quality.
Since then, role-players throughout the value chain have been consulted – from farmers to abattoirs, processors, retailers and pig veterinarians – to develop standards that not only address food safety and quality, but also traceability, biosecurity as well as animal welfare and environmental concerns. As such, the programme has been expanded from field to fork, to also include abattoirs and processors.
Participation is voluntary, with members being audited annually by independent auditors to ensure they comply with the minimum prescribed standards. Members, who comply, are able to use the Pork 360, Farm Assured, quality assurance mark on their pork products.
SAPPO's Portfolio Committee for Quality Assurance dictates policy in conjunction with SAPPO's board and also promotes the system.
The commercial pig industry in South Africa is relatively small with a few modern piggeries with modern facilities, high feeding costs and excellent genetic material. South Africa also has thousands of subsistence and small-scale farmers producing pork...
more