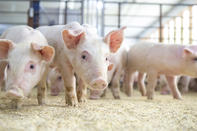 © National Pork Board and the Pork Checkoff. Des Moines, IA USA
Pig Farming might be on a commercial scale or on a small-scale to boost household income.
The commercial pig industry in South Africa is relatively small with a few modern piggeries with modern facilities, high feeding costs and excellent genetic material. South Africa also has thousands of subsistence and small-scale farmers producing pork meat for families and communal use. These small farmers often deal with rudimentary housing facilities and feed.
SouthAfrica.co.za essentially offers a guide to pig farming in South Africa, made up of educational agricultural material in all 11 South African languages. With a range of agricultural articles in an easy-to-read format, pig farmers of South Africa will be able to farm better quality pork under sustainable and safe conditions.