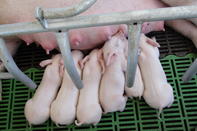 ©Glenneis Kriel
In modern facilities, young pigs are on plastic flooring to keep them warm.
Housing should be matched with the type of pig you want to produce. Unimproved breeds are able to cope under much harsher environmental and production conditions than improved breeds, so you might be able to get away with cheaper housing for them than for improved breeds.
They could thrive in simple fenced or walled camps with shelter, or open pens that provide roofed and walled areas. Improved breeds, however, will do better under more intensive production systems and in a more protective environment, as can be created by partially or completely enclosed housing.
Building Materials for Pig Housing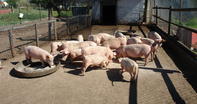 ©Glenneis Kriel
A fenced camp with shelter.
While it might be difficult to do when you start with only a couple of pigs, it makes economical sense to plan and design production units to easily be enlarged. The use of second-hand or scrap material and building of your own structure will help to reduce costs, but may work out more expensive over the long run as it might not last as long as new material.
The unit should also be as production friendly as possible, in terms of animal comfort, production management and ease of cleaning. Earth floors might be acceptable for unimproved breeds, but there should always be an area that is dry and clean for the pigs to sleep. A better option would be cement flooring, which is much easier to clean. The cement should be kept in good repairs to prevent injuries.
In more advanced housing, plastic perforated flooring is generally used to keep young piglets warm and cement flooring for older pigs. The floors are slated, with about a 1% fall from the back to the entrance of the back of the house, and have a good slurry system to enhance drainage and ease cleaning.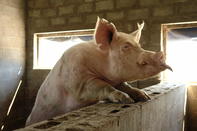 ©Glenneis Kriel
Walls should be high enough to prevent pigs from jumping over it.
Walls can be constructed from almost any locally available material, such as wood, cement blocks, bricks or metal, that is strong enough to keep the pigs inside, with well-plastered brick or concrete generally being the best option, according to the South African Pork Producers Organisation (SAPPO)'s production manual, Pigs for Profit.
The pens should ideally be at least 1,2 meter high and sometimes even higher if you have a good jumper in the herd. The insides of the walls should also be smooth with no sharp projections that may cause injuries.
Metal sheets or corrugated iron are often used for roofing material, but it can get get very hot in summer. SAPPO's manual suggests that farmers paint the metal sheets white or cover it with branches to reduce temperatures in the house. Thatch makes good roofing material that keeps sties cool in summer and warm in summer.
Roofs should be raised above the wall on wooden or metal pools or pillars to allow good lighting, the free circulation of air and to allow to move comfortably in the sty.
In more advanced housing insulation is used to prevent heat stress and to reduce electricity costs, by keeping the warmth inside the house in winter and keeping it outside during summer. Various material can be used for insulation, with polystyrene being the most widely used. According to Dannie Visser's book, Modern Pig Production, good material will:
not absorb moisture
will be fireproof
safe to the environment
robust
durable
not easily be damaged by animals or during everyday operations
not easily be damaged by biological factors, such as beetles, microbes, insects, rats or wild birdsBy
Glenneis Kriel