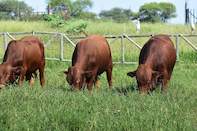 ©Afrikaner Cattle Breeders' Society of SA
The Afrikaner Cattle Breeders' Society of South Africa was established in 1902, when cattle farmers became more appreciative of the breed's unique qualities. The vision of the society was and still today is to promote and develop the Afrikaner into a sought after, easy care and widely adapted beef cattle breed.
The list of the Afrikaner Cattle Breeders' Society of South Africa founder members reads like a Who's who of the early twentieth century, including prominent statesmen such as Louis Botha, Barry Hertzog, CF Beyers, Sir Thomas Smart, Sir Frederick Moore, HC Hull and Marthinus Theunis Steyn.
Breed standards of excellence and scale of points were determined during the inaugural meeting of the society, with Pierre Fouché of Leeudoringstad being appointed as the society's first president and David van der Linde of Standerton as the first vice-president. JR Buhrman, Alex Hold, HWJ Ras and CJ van Zyl were some of the well-known breeders who first served on the society's executive committee.
The breed almost grew extinct in the early twentieth century, when large numbers died of rinderpest or were destroyed during the Anglo Boer war. The situation was exacerbated when the breed lost favour and was primarily reserved for crossbreeding after many exotic breeds were imported from Britain and Europe to rebuild the country's depleted cattle numbers.
The Afrikaner Cattle Breeders' Society of South Africa played a critical role in saving the breed from extinction and ensuring its future through selective breeding. Since 2010 the breed has enjoyed renewed interest because of its hardiness and ability to withstand the harsh climatic conditions associated with climate change.
Afrikaner cattle originated from wild cattle on the Asian steppes. Afrikaner cattle are produced throughout South Africa, as well as in some of our neighbouring countries...
more