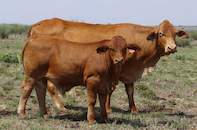 ©Beefmaster SA
Tony Brink, who farmed at Nietverdiend in the old north-west Transvaal, became the pioneer of Beefmaster cattle in 1970, when he imported the first Beefmaster semen from Botswana to South Africa.
The male offspring were only classified as phase one animals, but they still made a major contribution to herds in the country due to a shortage of good quality bulls at the time.
When it became illegal to import genetic material, quite a few South African farmers started smuggling Beefmaster semen into the country. The demand for the genetic material grew strongly, resulting in the first Beefmaster club being hosted in November 1985 on Pieter Bosch's farm, Mansole, near Bela-Bela in Limpopo.
The Beefmaster Cattle Breeders Society, Beefmaster SA, was formed in 1986 due to the growing demand for this American synthetic breed, with Pieter Bosch being appointed as the first president of the society.
The society represents the needs of Beefmaster stud breeders and has been giving direction through the years to ensure the development of a beef cattle that is well adapted to South African climatic conditions and thrives under normal veld conditions. The breed was accepted by SA Studbook in 1987, after which genetic material could be legally imported into the country.
At the time of writing, Beefmaster was one of the fastest growing and second largest beef breeds registered with SA Studbook and the fourth largest beef breed in the United States. The breed is primarily produced in the States, South Africa and Brazil.
Beefmaster cattle are a large breed of cattle known for its beef production in South Africa. According to Beefmaster SA, Tony Brink is seen as the pioneer of the breed in the country....
more