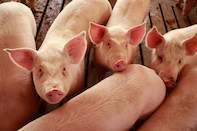 Pork producers were initially affiliated with the Red Meat Producers' Organisation (RPO), but broke away and established the South African Pork Producers' Organisation (SAPPO) in 1993 to better represent and address their needs.
There were numerous reasons for the break-up, but the unhappiness was rooted in the huge difference between the risks as well as business and production systems of pig producers in comparison with sheep and cattle producers. Pig production, for one is much more capital intensive than sheep and cattle farming, as expensive housing is required for optimal production. And, where sheep and cattle are allowed to graze veld or planted pastures, pigs are actively fed. Disease threats were also totally different for these animals.
While the industry is relatively small in comparison with the sheep and cattle industries of South Africa, South African Pork Producers Organisation (SAPPO) has managed to get the buy-in of most pork producers in the country, allowing them to successfully navigate business and production threats, such as diseases and health concerns, and turning the South African pork industry into one of the most efficient in the world.
Most of the pork produced in South Africa is consumed locally, with imports needed to address shortfalls. It would be difficult for local producers to address this shortfall, because the imports primarily constitute ribs, which is in higher demand than some of the other cuts and pieces.
The commercial pig industry in South Africa is relatively small with a few modern piggeries with modern facilities, high feeding costs and excellent genetic material. South Africa also has thousands of subsistence and small-scale farmers producing pork...
more