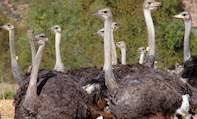 ©Rodger Bosch
Klein Karoo International (KKI) is a multi-faceted organization aimed at providing top-quality ostrich derived goods – leather, feathers and meat – to the world.
The main objective of Klein Karoo International is to reinvigorate the market and create a sustainable ostrich industry, whilst adhering to responsible farming practices.
Klein Karoo International (also known as Cape Karoo International) was founded in 1945 and has since produced luxury items from ostrich leather and feather, as well as top-quality ostrich meat products.
Klein Karoo International's inception is intertwined with the history of commercial farming of ostriches in South Africa, which started in the 1860's and led to an economic boom in the Little Karoo region, creating wealth and prosperity in the semi-arid area due to the high demand of feathers in European markets. Later, leather and meat production was also introduced to the export market.
Presently approximately 200 producers, collectively renowned as leaders in the industry, supply Klein Karoo International. The company subscribes to a set of principles that ensure humane treatment of livestock, environmentally friendly practices, and continuous innovation. Ethical corporate and social values, with a respectable and dignified work environment, are also encouraged.
Klein Karoo International is committed to adhering to all international standards in relation to farming practices, processing, export requirements, biodiversity management, biosecurity, and the humane treatment of ostriches, as prescribed by the industry's code of conduct and regulations.
South Africa was the first country in the world where ostrich farming started on a commercial basis, in the mid-1820s feathers were harvested from live ostriches....
more