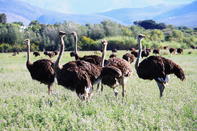 ©Klein Karoo International
Free-range ostriches in lusern pastures near Oudtshoorn.
South Africa was the first country in the world where ostrich farming started on a commercial basis, in the mid-1820s feathers were harvested from live ostriches. The Ostrich Farming Industry of South Africa has grown enormously and South Africa is now the world's largest supplier, 75% of ostrich products.

A warm dry climate, excellent farm management, selective breeding, technologically advanced egg incubators and certified ostrich abattoirs deliver products of supreme quality, mainly to the European Union.
South African ostrich products include fresh and processed meat such as ostrich fillets, biltong and sausage, ostrich leather products and ostrich feather products.