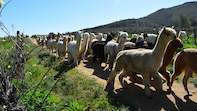 ©Alpaca Loom
The South Africa Alpaca Breeders' Society (SAABS) promotes the breeding and sustainable farming of alpacas, and offers guidance to new farmers joining the alpaca community.
The society has played an important role in the growing alpaca industry since the start of the 21st century. In 2001, the SA Alpaca breeders' Club was inaugurated and subsequently promulgated to a Society in late 2007. SAABS is registered under the South African Stud Book and Livestock Improvement Association, which makes the alpaca a registered breed in SA.
The society is in charge of maintaining the minimum breeding standards and genetic improvements of South African alpacas. If a farmer wants to register his stud alpacas, they have to be a member of the society.
Alpaca farming in South Africa started in the 21st century, when in 2000, from the high-altitude regions in the Andes Mountains of Chile, the first 60 alpacas made their way to the country....
more