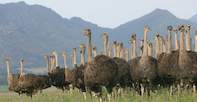 ©Ostrich Products South Africa
Ostrich Products South Africa (OPSA) is part of the Saag Jonker Group of Companies, which is one of the largest privately-owned, vertically-integrated ostrich farming, processing and marketing operations in the world.
The Saag Jonker Group is based in Oudtshoorn in the Western Cape, which is known as the 'Ostrich Capital' of South Africa. The company was founded in 1976 by ostrich farmer Saag Jonker, and has since been actively involved in the ostrich industry both locally and internationally. OPSA represents the country's contribution to all things ostrich on the global market.
The first locally produced ostrich feathers were exported in 1820, which were harvested from wild ostriches. In 1821, however, a law was passed that prohibited the hunting of ostriches, and Ostrich farming started a few decades later in the 1860s in the Karoo and Eastern Cape regions. For decades, South Africa was the sole producer of ostrich feathers and leather in the world, as strict laws prevented the export of live birds. In the late 1860s, the demand for ostrich feathers for the fashion industry also led to the start of ostrich farming in the Southern US and Australia.
Ostrich Products South Africa provides superior quality exotic ostrich leather and feathers to the ostrich industry worldwide. Ostrich feathers are exported, sorted and sized while feathers of superior colorfastness are dyed. Their portfolio consists of a vast variety of ostrich products, as well as a large clientele.
South Africa was the first country in the world where ostrich farming started on a commercial basis, in the mid-1820s feathers were harvested from live ostriches....
more