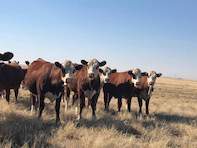 ©SA Hereford
The South African Hereford Cattle Breeders' Society was established at the Witwatersrand Show on 6 April 1917, to protect and represent the interests of the growing number of Hereford producers in the country.
Sir John Ray was appointed as the society's first president and the Constitution was accepted five months later on 6 September.
The first two Hereford bulls were imported from England to South Africa in 1892, followed by George Moorcroft, who in 1901 imported the Hereford bull, Southern Cross, along with 14 female animals, and James Gray, who in 1902 imported a bull called Rufus and two cows, Abigail and Dolly.
Sir Abe Bailey and GW Young, who imported large numbers of Herefords in 1903, are considered the founders of the breed in South Africa. Charles Eustace is considered another pioneer, for starting the Arbor Hereford Stud in Underberg KwaZulu-Natal in 1945, which today is the oldest stud in the country.
Jarros Investment started the Vicedale Hereford Stud in 1948. The stud, while under Jarrosson Estates, had over 2 000 registered cows, making it the largest Hereford stud and largest registered herd of all breeds in the world. It was also the first SA Hereford herd and part of five breeds to start official performance testing by the Department of Agriculture in Irene.
Herefords were recorded by South African Stud Book between 1906 and 1917, with the first volume including pedigrees of the earliest importation. The first Bull growth test station at Irene was also opened with a Hereford bull as a demonstration animal.
Hereford cattle are a large breed of South Africa's beef production. The origin of the Hereford breed is uncertain...
more