Food Security is about so much more than just how much food we grow.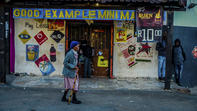 ©Andile Bhala
Food Security is about more than farming. Urban Food Security is an issue concerned with the urban poor's ability to access food.
When the term 'food security' gets thrown into the conversation, people immediately start talking about agriculture: how much are we producing every season; how do we deal with land reform to keep commercial farmers in the game; how do we get skills to subsistence farmers; can our urban poor feed themselves by growing their own lettuces and cabbages; how is climate change going to redraw the agricultural map of Southern Africa in terms of what we can grow, and when we can grow it? These are all vital questions. But they are only a small part of the much broader issue of what Food Security means.
'Urban Food Security is the emerging development issue of this century', argues the African Food Security Urban Network (AFSUN) - 'Food Security strategies of the urban poor, and how these are thwarted or enabled by markets, governments, civil society and donors, are critical to the future stability and quality of life in African cities.' The growing urban landscape poses unique challenges to human development.
Around the world, cities have voracious appetites, sucking up by far the lion's share of resources used globally, and spewing out most of the global waste. This rate of consumption is not going to slow down as urbanisation continues to ratchet itself up. Cities in the developing world are expected to swell by threefold between 2000 and 2030 (from 200 000 square kilometres to 600 000 square kilometres, according to the World Bank).
South Africa Online ® wades into this noisy, messy, polluted, insatiable cityscape and attempts to face some of the largely under-reported questions on what food means in this time of unprecedented urban expansion, particularly from the perspective of poor, domestic urban families.
By
Leonie Joubert