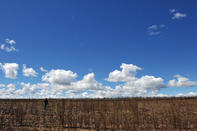 © Eric Miller
Barren field on a Free State farm.
A changing climate means we have to change the way we live. In terms of food security, climate change has effects on what we can grow and when, our access to water and our exposure diseases through food. SouthAfrica.co.za explores these and other effects of climate change on our food systems.
Climate change and continued rapid urbanisation will make the management of conditions such as HIV/AIDS, as well as malnutrition and diarrhoeal disease, more difficult. In terms of building urban communities that are more resilient to climate change...
more
In South Africa, the evidence of change is substantial, with weather trends appearing to shift away from 'normal' over the past six decades, and reflecting the kinds of changes seen in so many other parts of the globe....
more