There are people going hungry all around us. We see them on city streets and rummaging through garbage in suburban neighbourhoods.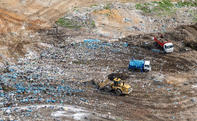 ©Jean Tresfon
A coastal dump site.
One may assume there simply isn't enough food to go around, but this is not necessarily the case. Food wastage on agricultural, retail and consumer levels is extremely high. Looking at food wastage on a global scale, South Africa Online ® details the numbers, South African context and lives of the poorest of society.