When people are food insecure it means they do not have access to enough food (or the right kind of food) to keep their bodies healthy. People who do not have proper nutrition are more susceptible to running into problems like malnutrition and obesity.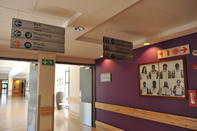 ©Eric Miller
Inside a hospital in Khayelitsha, Western Cape.
They are also more vulnerable to disease and infection, especially if they already have a pre-existing condition like HIV/AIDS. South Africa Online ® delves into the effects of poor eating habits on health as can be seen within the South African context.