It is important for children to get the right nutrients while in the womb and into early childhood in order for them to grow into healthy, well-developed adults.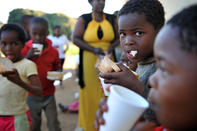 A child tucks into a meal of bread and sugar water, donated by a local soup kitchen.
Poor nutrition and exposure to toxins, such as alcohol, have effects on the way a child's brain and body develops, which may well affect them much later in their lives. South Africa Online ® explores the vulnerability of children and the effects of child malnourishment.